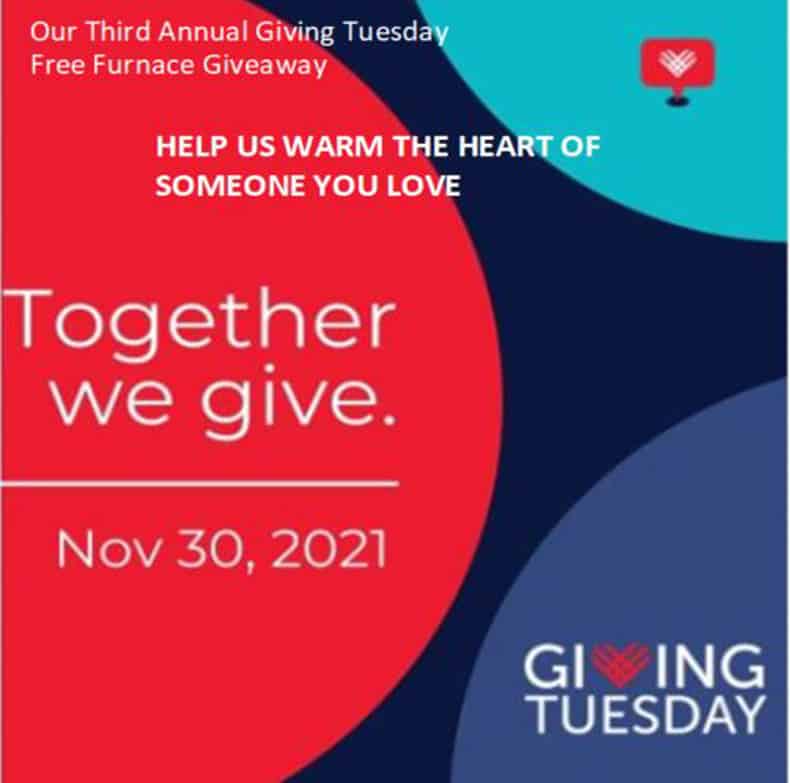 In the Spirit of Giving
Giving Tuesday is November 30, 2021.  Keeping our customers and those they care about safe and warm through the winter is important to us.  We are joining the GivingTuesday movement by giving away a free furnace installation to someone in need.
Join us in the spirit of giving by nominating someone you know who is in need of a new furnace. 
Program Details:
We will provide a new Furnace (with equal to or greater efficiency than existing furnace), complete with installation and a one year parts & labor warranty.
Nominees can be anyone, a family member, a neighbor, service member or complete stranger! Someone who may be in need of a little extra support or encouragement. You can even nominate yourself.
All nominees must reside in and own the home where the furnace is to be installed. Sorry, but mobile homes and homes on LP Gas are excluded from this year's giveaway.
Warm the heart and home of someone you choose to nominate. 
Fill out the Nomination Form with your reason why you think they need a new furnace. 
Eligibility:
Furnace installation to be scheduled at Balance Point Heating & Cooling's discretion.
Giveaway recipient must be the owner of the home.
Home must be located in the Kansas City Metropolitan area serviced by Balance Point Heating & Cooling. Home must already have sufficient ductwork, gas piping, flue, basement access, and space allowed for typical installation. Balance Point may need to visit the home to determine eligibility.
All entries must be submitted by November 24, 2021.
Winner to be announced on Giving Tuesday, November 30, 2021.